Compression/Lymph Therapy
Compression/Lymph Therapy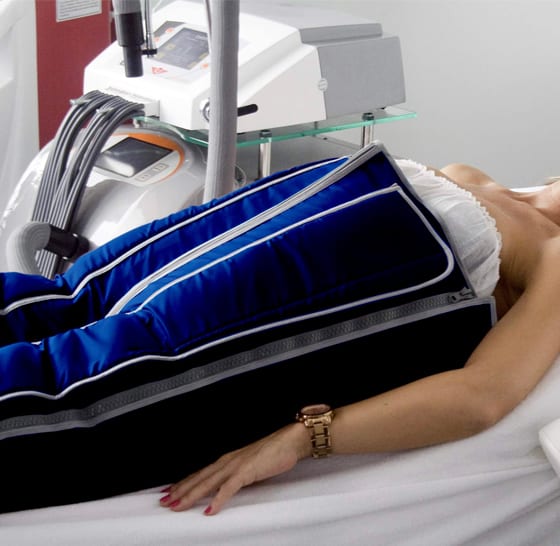 ONLY machine on the market that mimics the Manual Lymph Drainage (MLD©) created and practiced by Emil and Estrid Vodder. Their method has become the most well-known technique used to increase and assist in lymph flow and the drainage of tissues.
Intensive nourishment and detoxification of tissues through lymphatic drainage
Stimulates blood and lymph circulation to increase the elimination of waste products, improving the nourishment and oxygenation of body cells
Prevents the development of cellulite and water retention
Strengthens loose skin (pregnancy, obesity)
Safe for use and aids in recovery following liposuction, laser lipolysis, and cavitations
Rehabilitation after injuries and contusions (Reduces swelling!)
Prevention of Phlebothrombosis
Effective method of treatment for Lymphoedema and venous insufficiency
Relaxing treatment that encourages healthy sleep patterns
Widening of blood and lymphatic vessels leading to faster blood circulation.
Prevention and elimination of varicose veins first stage
Pneumatic Compression Therapy and Cryo?
Incorporating a pneumatic compression device that also uses cryotherapy is one of the best ways to safely accelerate injury recovery.
COMPRESSION THERAPY PRICING